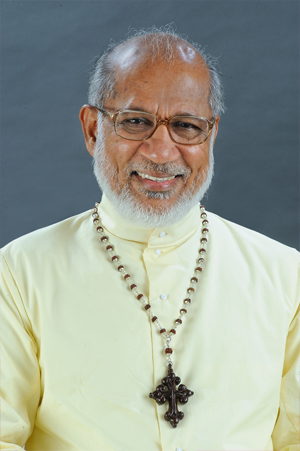 Major Archbishop Mar George Cardinal Alencherry
Mar George Alencherry was born on 19th April 1945 in the parish of Thuruthy in the archdiocese of Changancherry as the sixth child of the ten children of Mr. Philipose and Mary Alencherry of whom two others are priests (Fr. Jose Alencherry and Fr. Francis Alencherry, SDB) and one, a religious sister (Sr. Cherupushpam, S.A.B.S.). Geevarghese is his baptismal name. Mar George Alencherry had his primary schooling at St Mary's School, Thuruthy and secondary education at St Berchmans' High School, Changanacherry. He began his priestly formation in 1961 at the archdiocesan minor seminary at Parel, Changanacherry. While he pursued his studies in the minor seminary, he obtained his BA in Economics from St Berchmans' College with second rank in the University of Kerala.. After the minor seminary studies he was sent to St Joseph's Pontifical Seminary, Aluva where he completed his philosophical and theological studies. On 18 December 1972 Cardinal Antony Padiyara, the then archbishop of Chanagancherry, ordained him priest at St Mary's Church, Thuruthy, for the archdiocese of Changanacherry. Later he continued his higher studies at the Pontifical Institute of Theology and Philosophy from where he obtained his master's degree in Theology in first rank.
While Mar George Alencherry was pursuing higher studies at Aluva he served also as pro vicar of the filial church at Periyarmugham in the archdiocese of Ernakulam-Angamaly. After completion of studies at Aluva Mar George Alencherry was appointed as assistant vicar at the Cathedral church of Changanacherry and later Director of the Archdiocesan Faith Formation department. Thereafter, he served three years as secretary of the Commission for Catechism of the Kerala Catholic Bishops' Council (KCBC). After his tenure in KCBC he was sent to Paris for higher studies. There he pursued his studies at Catholic Institute and Sorbonne University from where he obtained his Higher Diploma in Biblical Studies (DSEB) and doctorate in biblical theology.
On returning to India in 1986 Mar George Alencherry served a short period as Secretary to Archbishop Mar Joseph Powathil and then was appointed Director of the pastoral Orientation Centre (POC) at Palarivattom and deputy secretary of KCBC. He served the Church in Kerala in that capacity until 1993. Simultaneously he had served also as professor at St Thomas Apostolic Seminary, Vadavathoor. He continued to teach at Vadavathoor until 1997. From 1994 to 1996 he was the protosyncellus of the Metropolitan of Changanacherry.
When Pope John Paul II established the diocese of Thuckalay on 11th November 1996 Mar George Alencherry was appointed its first bishop. He was ordained bishop on 2nd February 1997 at Thuckalay by Mar Joseph Powathil, the then archbishop of Changanacherry.
As bishop Mar George Alencherry served the Syro-Malabar Church in his capacity of the secretary of the Synod of Bishops and chairman of the Syro-Malabar Major Archiepiscopal Commission for Catechism. He has also served as chairman of the Commission for Laity of the catholic Bishops' Conference of India (CBCI). Mar George Alencherry has to his credit a Book with the title Morality Today and Tomorrow in Malayalam and a number of articles on various topics in English and Malayalam. The new major archbishop is proficient in Malayalam, Tamil, English and French.
On 26th May 2011 the Syro-Malabar Major Archiepiscopal Synod elected Mar George Alencherry as the father and head of more than 40 lakhs Syro-Malabar faithful living all over the world. His enthronement as the Major Archbishop of the Syro-Malabar Church and as the Archbishop of Ernakulam-Angamaly took place at St. Mary's Cathedral Basilica, Ernakulam on 29th May 2011. His Holiness Pope Benedict XVI nominated Mar George Alencherry a member of the college of cardinals on 6th January 2012. At the consistory on 18th February 2012 he was raised to the dignity of a cardinal. He is a member of the Congregation for the Doctrine of Faith, of the Congregation for the Eastern Churches and of the International Council for Catechesis. His Beatitude participated in the Conclave which elected Pope Francis.
Contact Address
Major Archbishop's House
Ernakulam, Kochi - 682 031,
P.B.No. 2580, Kerala, India
Phone: 0091-484-2363664
email:majorarchbishop@gmail.com