Profile
Mar Jose Puthenveettil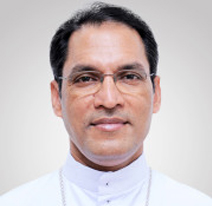 Bishop Mar Jose Puthenveettil was born on April 4, 1961 in the parish of St. George's Forane Church, Edappally in the Archdiocese of Ernakulam-Angamaly as the second of the eight children of Mr. Devassy and Mary Puthenveettil. After his school education at St. George's H.S. Edappally, Young Jose Puthenveettil had his priestly formation for three years (1977-1980) in the Sacred Heart Minor Seminary, Thrikkakara and for seven years (1980-1987) in St. Joseph's Interdiocesan Seminary, Mangalore. On 26 December 1987 Cardinal Antony Padiyara, the then Archbishop of Ernakulam, ordained him priest at St. George's Forane Church, Edappally, for the Archdiocese of Ernakulam. After the ordination Fr. Jose served the archdiocese as assistant vicar at St. Mary's Forane Church, Kanjoor (1988-1990) and then as the Secretary to Mar Antony Cardinal Padiyara (1990-1992). Rev. Fr. Jose had his higher education at Katholieke Universiteit Leuven, Belgium and took doctorate in Theology. His doctoral thesis is entitled as "Common and Ministerial Priesthood. A Critical Textual Hermeneutics in the Light of 'Tria Munera', 'In Persona Christi', and 'Diakonia' with Special Reference to 'Christifideles Laici' and 'Pastores Dabo Vobis'.
After having returned to India he served as parish priest of St. Augustine's Church, Thuravoor North (1998-1999) and St. Mary's Church, Mookkannoor (1999). From 1999 to 2000 he served as assistant director and dean of studies of Niveditha, Institute for Religious Formation and Fellowship at Chunangamvely and during the same period he was assistant at St. Joseph's Church, Chunangamvely and in that capacity he also took care of St. Pius Xth Church, Choondy. He had been professor of systematic theology at Paurastya Vidyapitam, Kottayam, for 11 years from 2000 to 2011, of which he served for a term of three years as the Vice president of the Institute. Since 2011 he has been serving as the Syncellus (Pro-Vicar General) of the Archdiocese of Ernakulam-Angamaly. Bishop Puthenveettil is proficient in Malayalam, English and German. He is the author of the book titled 'Priesthood: The Baptised and the Ordained. A textual Hermeneutics in the Light of the Church Documents.' He is also the editor of the books 'Akapporul (Malayalam-On Nicea-Constantinople Creed)'; 'Syro-Malabar Thelogy in Context' and 'Paurohithyam: Uravidangal, Yadharthiyangal, Pratheeshakal (Malayalam)'. He has also some articles to his credit.
On Friday, 23rd August 2013 the Synod of the Syro-Malabar Major Archiepiscopal Church, gathered at Mount St. Thomas, Kerala, having received prior Papal Assent according to CCEO can. 184, canonically elected to the office of Auxiliary Bishop of the Archeparchy of Ernakulam-Angamaly Rev. Fr. Jose Puthenveettil. The Holy Father Pope Francis has assigned to the new Auxiliary Bishop the Titular See of Rusubbicari. He was consecrated Bishop on 21st September 2013 by Major Archbishop Mar George Cardinal Alencherry at St. Mary's Cathedral Basilica, Ernakulam. He was elected as Auxiliary Bishop of Faridabad Diocese on 30th August 2019 and appointed on 10th November 2019.
Contact Address
Major Archbishop's House
Ernakulam, P.B.No. 2580
Kochi - 682 031, Kerala, India
Phone: 0091-484-2363664, 2352629, 2352906
Fax: 0091-484-2355010
Email:josputhen@gmail.com
Website: www.ernakulamarchdiocese.org